6 eco friendly accommodations around the world
Anatheum London
Caroline Egan of High Life says that as all other hotels go all out to brag about their eco credentials, the Athenaeum has its natural green assets displayed in full view before you even step through its doors. Running from the ground all the way up to its tenth-floor penthouse, the garden or 'Living Wall' was designed by French botanist Patric Blanc with 260 species of plant and is doing its bit for greening the city.
Crosswaters Ecolodge, China
Set in the Nankun Mountain Reserve in Guangong Province, China, much of thislodge's architecture utilizesbamboofrom the surrounding forests as well as recycled and reused material. The boardwalks, for example, are made of railway ties and rood tiles are made from demolished buildings in the area. (Words by Blythe Copeland)
Whitepod Hotel, Switzerland
Blogger Jaspreet Kaur Walia calls Whitepod's clean and green ski resort an awe-amazing creation by genius Sofia de Meyer. Here, water is extracted from local sources while wood heating is used to keep the inside warm and cozy. It comprises of 15 pod huts that are eco friendly in nature. The hotel keeps a check on water and electricity usage, which further stirs awareness for the environment. 
Endemico Hotel, Eco-friendly Cabins, Mexico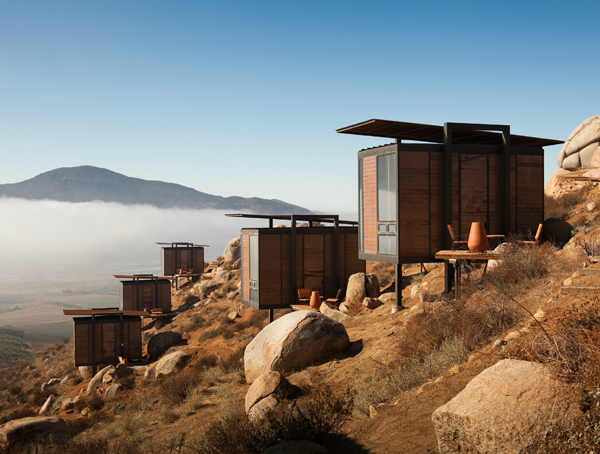 Endemico is comprised of 20 luxury cabins, which blend seamlessly with their stunning natural surroundings. Here, the eco-friendly cabins are raised off the ground to minimize their impact on the landscape and are constructed from Corten steel and wood to ensure that they weather over time. (Words By Limite)
La Montana Magica, Chile
The hotel itself looks like the set of a Disney movie. A waterfall cascades from the top of a volcano-shaped lodge built from local wood and stone. The exterior is covered in shrubs, allowing it to effortlessly mesh with the local flora and fauna. (WordsBy Romina McGuinness)
Tree Hotel
Treehotel is built in the natural forest while hardly affecting the surroundings. It has an eco outdoor wood floor, which doesn't contain any chemical substances. Its electricity is supplied locally from green hydroelectric power. And the lighting consists of low-energy LED-systems. Treehotel's treerooms have no sewage system and when cleaning, always uses eco-friendly products. Each room has a modern, environmentally friendly combustion toilet where everything is incinerated at 600 °C. The Mirrorcube rooms, on the other hand, have a freezing-toilet, also electrically powered and completely odourless. (Words from Tree Hotel)