Can children fly alone?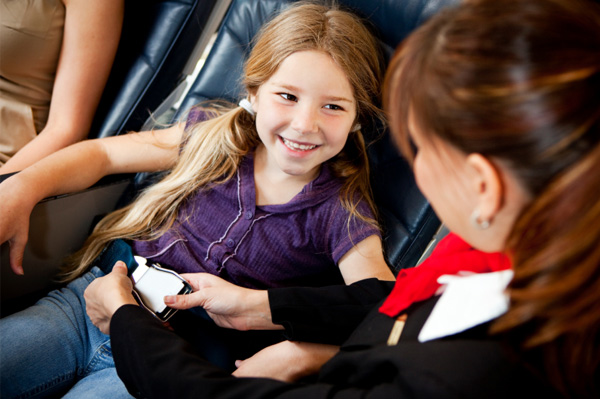 Letting your child travel alone can be one of the scariest experiences for parents and children alike. Fears of your children getting lost, losing money, or worse, meeting shady strangers can drive any parent mad. Fortunately, airlines have grown to be more thoughtful in their services throughout the years. In the case that your children should need to travel domestically or internationally, mostairlines now offer services that cater to the needs of unaccompanied minors.
How does the program work? Regulations, requirements, and fees vary depending on the country and airline. For example, German airline Lufthansa only allows children aged five to eleven to fly alone. For Dutch airline KLM, it is mandatory for unaccompanied minors aged five to fourteen to avail of the service. For SAS or Scandinavian Airlines, no charge is added when unaccompanied minors travel domestically within Sweden and Denmark. When two unaccompanied minors travel together using SAS, only one fee is charged too.
Some airlines in Asia also provide the program. In the Philippines, Philippine Airlines (PAL) permits unaccompanied children from age eight to twelve to travel alone except when it is going to or from Davao City. Davao City's policy does not allow minors to travel alone to and from theCity without valid reason or without clearance or travel certification issued by their city's social services and development office.
Despite disparate rules in the different countries, an unaccompanied minor's program generally works out this way:
A parent or guardian avails of the program, pays the program fee, and submit the necessary travel documents.

They answer a release form, identifying who will pick up the minor at the destination airport.

Airline staff will escort the child though airport procedures (i.e. immigration and customs) until it is time to board the plane.

Flight attendants should know when the child is traveling alone and should bring the minor at the nearest exit upon the plane's descent to meet the local ground staff.

The local ground staff will escort the child in going through airport procedures again.

After clearing immigration and customs, the child will only be released to the person authorized on the document.
Airlines will usually keep you updated on the status of your child's journey through telephone call, e-mail and text messages so there is no need to worry.

Are there any personal risks? Letting your child travel alone is already risky as not all airlines are perfect, no matter how efficient and superior their services are. Some blunders do occur, and there is nothing parents can do except have faith in the airline. There was a case before when a 10-year-old Phoebe Klebhan was left alone by United Airlines on a Chicago connection. Phoebe's supposed escort did not appear. Fortunately, she was found 45 minutes later by another United employee. United apologized and did the necessary actions to prevent the situation from happening again.
Although these cases occur sometimes, the program generally works. Based on Lufthansa's records, more than 65,000 unaccompanied minors actually use their service every year. Trust that airlines will do everything to ensure your child's safety and comfort. However, as parents it is your duty to prepare your children for traveling alone too. Give them tips on what to do in case they are left alone or lost.
Airlines are also open to calls and inquiries from their guests if you want to be extra cautious with your traveling minor.