Filipino Superhero Series: Panday
Known as the "Original Pinoy Superhero," Carlo J. Caparas' Panday (Blacksmith) was introduced to the world in 1976.
Prolific writer, producer, and director Carlo J. Caparas was tossing and turning in his bed one rainy evening 37 years ago. He was imagining a superhero that was unlike any other. True enough, the writer created a character that was truly original for it was conceptualized with only the King of all Philippine Movies in mind, Fernando Poe Jr. or FPJ.
By the 70s, FPJ had already established himself as an award-winning actor and super star with performances usually depicting him as the champion of the poor and the oppressed.Because of this, Carlo J. Caparas wanted his next superhero patterned after the actor. Caparas then collaborated with illustrator Steve Gan and asked him to copy all of FPJ's facial features, down to the last and smallest detail. By 1976, Panday was officially serialized in the series Ang Panday in Pilipino Komiks. Three years later, Panday's adventures were published in other notable magazines such as Liwayway and People's Journal. In the same year, Panday became a motion picture with FPJ as the lead. Due to its success, producers decided to make three more sequels with FPJ until 1984.
'Panday' movie posters starring FPJ
The original story of Panday begins when a bulalakaw or Taeng-bituin (meteorite) falls from the sky and into the village of a simple blacksmith named Flavio. Flavio finds the meteorite and discovers that its metallic material can be used to forge a dagger. Soon enough, Flavio realizes that his dagger is no ordinary weapon, and that it can expand into a full-fledge sword when he raises it towards the sky or when he wills it.When the evil Lizardo, the devil incarnate himself, his minions, and other evil forces repeatedly plague the village, Flavio arms himself with his dagger/sword and dutifully protects the townsfolk.
TRIVIA: The meteorite in the story is one of the components that make Panday truly original, according to the late Carlo J. Caparas. When Caparas was a young boy, he and his playmates would search for those small rocks, which they called Taeng-bato (Rock droppings). They would break them and discover that, inside, were sparkly and almost magical materials.
According historians, Panday's character might have been influenced by Panday Pira, a historical blacksmith who lived in Pampanga. Pira was known for making cannons for an artillery foundry during the Spanish colonization of the Philippines.
Qualities:
Simple
Down-to-earth
Honest
 Brave
Strong
Powers:
 No supernatural powers
 Superior swordsmanship skills
Weapons:
 Panday's Dagger (balaraw) is made of ore from a meteorite that fell from the sky and can cut through material; can also expand into a sword when needed.
His dagger also hums when it detects danger.
In some films, Panday uses a shield forged from the same meteorite as his dagger.
Classic Villains/Enemies:
Lizardo- Devil incarnate and is the leader of the Sombras; also Panday's ultimate arch nemesis
Sombra Oscura- Evil minions of Lizardo
Socur – Right-hand man of Lizardo
Konde Kalatrab – Lizardo's robotic alter-ego
Friends:
 Tata Temyong, a wise old man and keeper of the Black book of prophecies.
There is no denying of Panday's iconic popularity as proven by the countless television series, movies, adverts, and songs dedicated to him by some of the biggest names in Philippine arts, music and film industry. There are even custom-made action figures of the superhero and postage stamps! Some of the names to portray Panday in both motion picture and television are Fernando Poe Jr., Ramon "Bong" Revilla Jr., Jinggoy Estrada, and Jericho Rosales.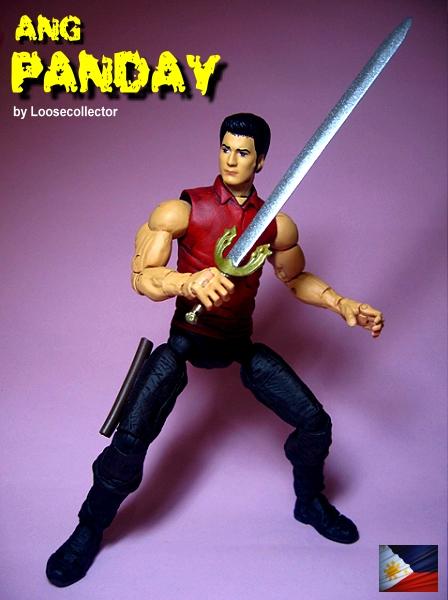 A comical parody of Panday starring Joey De Leon (L)Panday custom action figures sold online(R)
2008 collector's item Panday postage stamps (R)

The many incarnations of Panday and changes in its original plot (to suit remakes) are clear signs that this epic superhero will never know death; that he will continue to grace the imaginations of future generations.
Watch the full movie of Ang Panday 2 (2011) starring Ramon "Bong" Revilla Jr.