Fright Night
Many adults consider themselves too old for trick or treat. They instead opt for costume parties and horror film fests. Though these are quite enjoyable festivities, many adults are beginning to yawn at their sight.
Bored by the typical and commercial Halloween celebrations, many have started to look for more unique and thrilling alternatives. Although ghost tours may seem like the best option, a number of them rely heavily on bombarding their clients with information. Less interactive measures prevent the "Halloween fright" experience – that mood of terror, panic, and edginess some enjoy especially during the season.
For fearless folks and those keen on a scare challenge, we have selected five of Europe's most interesting and spookiest ways to celebrate Halloween.
BELGIUM: T'Spookhuys Restaurant/Bar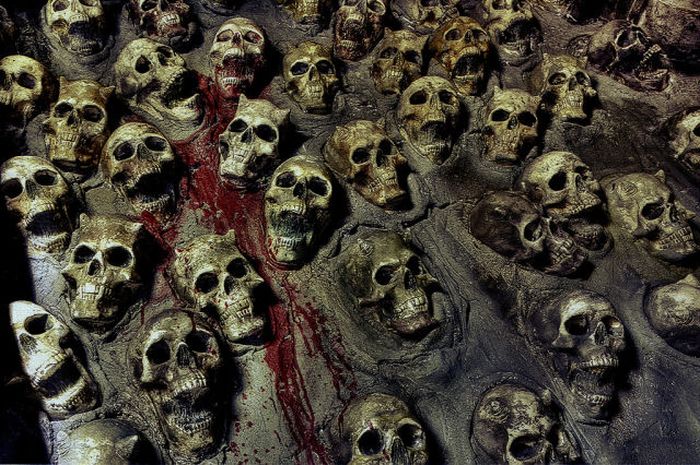 Skull decorations on the walls of T'spookhuys Restaurant/Bar
T'Spookhuys is also known as the House of 1,000 Ghosts, an occult bar. This was abandoned in 2008. According to triggerpit.com, T'Spookhuys "served 'mud pie' to be eaten out of a skull, featured rattling chandeliers, smoke pumped down from the ceiling and moving paintings. Entertainment had performances from transvestite Draculas and cameos with illusionists and devil-worshiping dancers. People dined in hell and had drinks at the occult bar. It is rumored that there were satanic rituals held upstairs, leaving angry spirits to roam the premises." Not many travelers visit the Belgian restaurant. In addition, those that have visited have described it as an "unsettling" experience.
UNITED KINGDOM: Dark Encounters Ghost Hunt
A dark labryinth of D-Day Tunnels serve as hunting ground for the Dark Encounters team
Ghost hunts may seem staged to many people. Dark Encounters disproves this by allowing the public to experience firsthand paranormal activity with the help of science. Dark Encounters is composed of experts and enthusiasts who investigate and document paranormal activity in a selected location. The team only uses state of the art equipment (night vision cameras, solid-state thermometers, etc.), and applies scientific methodologies and techniques to their craft. This shows that their team is more focused on the investigative process and not just the results. Their processes provide evidences in which the experts use to make a case study or analysis of the haunted location.
Dark encounters provide overnight hunts wherein amateurs are taught about hunting techniques and ghost hunting equipment.
UNITED KINGDOM: Zombie Walk at Essex
Girl with realistic Zombie SFX Makeup
This list excludes commercial Halloween celebrations but we made Zombie walks an exception to the rule. Zombie walks continue to be popular events all over the world because they are simply entertaining. People enjoy dressing up as the walking dead as well as acting like one. They get to express their creativity through their costumes and makeup. Some of them undeniably enjoy shocking others with their appearances too.
Those who are not keen to be a zombie for a day may still enjoy this event as an onsite spectator. Walking through the swarm of zombies may either terrify or make one feel as if they were inside a spooky art gallery.
Zombie walks are celebrated throughout the year but to highlight the Halloween season, Southend Pier, Essex will hold theirs on 3 November.
NORWAY: Witches in Bergen
Lisbeth Movin as Anne Pedersdotter in the film "Day of Wrath" (1943)
What would Halloween be without witches? Bergenis holding an exhibition commemorating Norway's most famous witch, Anne Pedersdotter. Anne was one of the 350 witches executed and burned alive in the 16th century. She was a wealthy widow accused several times of murder. Reports say she poisoned her victims with sorcery and displayed extraordinary skill during her trial.
Learn about her life and execution by visiting the exhibition located at Rosenkrantz TowerBergen.
GERMANY: Dining in the Dark
Customers dine in pitch black darkness for at least 2 hours at Unsicht-Bar
Unsicht-Bar inGermanyoffers a unique dining experience. Customers pay to dine in a 100% pitch-black room where even mobile phones are not allowed. Customers order in a well-lit foyer before entering their dining room. They are served usually by blind or visually impaired waiters who are better at navigating with their other senses. Customers dine in darkness for at least 2 hours without seeing as much as a trace of light. Through this, Unsicht-Bar aims to make people rest their eyes and make them savor their food using other senses.
Although the idea of eating in darkness seems easy, the actual experience may be highly disturbing. Eating at Unsicht-Bar may be a memorable experience in the future, but it would also be traumatic as all vision is removed.
:
: