Kardashian, Jenner walk the runway of Philippine Fashion Week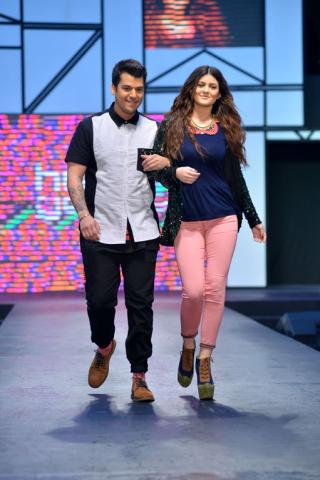 Kylie Jenner first came out styled in a sequined cardigan, navy blue cotton top, and rose pink skinny jeans. She was styled with a pink and gold statement neckpiece and multicolored 5-inch booties.
Kylie's brother Rob Kardashian then stepped on the runway dressed in short-sleeved black and white button down shirt styled with red and black striped undershirt. Rob also rocked the black skinny jeans and exuded the hipster vibe with colored socks and oxfords.
:
The two stars became famous through the hit comedy E! reality TV show "Keeping up with the Kardashians" together with their sisters Kim, Kourtney, and Khloe Kardashian.
:
Furthermore, the two Kardashians are the newest addition to the growing family of Hollywood "Benchsetters" in the country alongside singers Joe Jonas and Adam Levine, TV stars Lucy Hale and Michael Trevino, American Idol season 11 runner-up Jessica Sanchez, and America's Next Top Model All-stars Dominique Reighard, Allison Harvard, and Sophie Sumner.
:
The two reality stars arrived in the Philippines last Thursday. The moment they arrived, Kylie posted photos on her Instagram account showing her love and excitement to be in the country.
:
<span style="\"color:" #ffffff;\"="">:</span></span></div>