The best travel apps. for your smartphones
:
TripIt
Forget about printing your airline, hotel, or car-rental reservation details or about buying tourist maps for your travels. With a few taps and clicks on your smartphone, the TripIt app. makes your life a lot more convenient by organizing your itinerary details for you. You do not even need to have internet access to to use TripIt as the app. functions both offline and online.
Features:
• Keep all of your travel plans in one spot and stay organized with separate itineraries for every destination—ideal for frequent travelers.
• Access trip details whenever and wherever you need them—on your smartphone, tablet or online at tripit.com
• Forward travel confirmation emails to plans@tripit.com and never worry about losing them again.
• Easily add or edit plans manually right from the app or on tripit.com.
• Share your trip plans with family or colleagues so they know when and where you're headed.
• Get daily weather forecasts, directions and maps for each destination.
• Use map-based search to find restaurants, businesses and attractions, then add them to your trip itinerary in one click.
• Sync all your trip plans with your calendar.
• Post your destinations to Facebook or Linked In and get travel advice from your social network.
 Developed by TripIt, Inc. / Price: FREE / Android requirement: 2.1  or higher / Size: 3.3 M / Updated: December 15, 2012 / App. Rating: 4.4 (over 5)
:
:Â 
CAMERA+
Make sure to capture every moment of your travels! Camera+ is one of the best photo applications that allow you to take great snapshots regardless if you are a seasoned photographer or not. With several amazing features to make photography fun, the app. is also very user-friendly to less tech-savvy folks.
Some of the features include:
+ Touch Ex – to set exposure separately from focus for the ultimate control  shots
+ Photo Flashlight – to continuously fill light to improve photo quality, especially for portrait and macro shots.
+ Shooting modes include the ff:
-Â Stabilizer: to steady your iPhone and get the sharpest photos you can.
-Â Burst: to take rapid streams of shots.
-Â Grid:Â to align shots and eliminate tilted shots.
+ Digital zoom - Up to 6× zoom with advanced digital processing
 Developed by tap tap tap LLC / Price: $0.99 / Android requirement: Compatible with iPhone, iPod touch, and iPad. Requires iOS 5.0 or higher. This app is optimized for iPhone 5.2.1 or higher / Size: 22 MB / Updated: December 19, 2012 / App. Rating: 5 (over 5)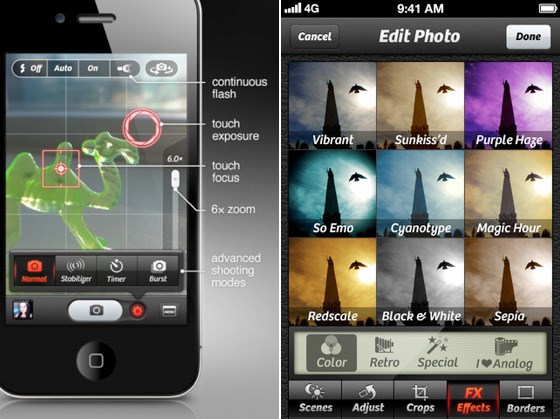 :
:
WEATHER CHANNEL
Leaving the house unprepared for the weather can leave you soaked under the rain, sweating on a hot summer's day, or freezing to death in a snow storm. With over 200 meteorologists and weather forecasting technology, the Weather Channel app. provides everyone with the most reliable and accurate weather information needed to plan one's week, day, or even hour.
Features :
• Animated & customizable radar maps with Google Maps functionality
• Detailed weather conditions and forecasts (hourly, 36 hour, & 10 day)
• Severe weather alerts for US or Europe
• Notification bar with current temp and severe alert indicator
• Saved locations
• Local and popular videos
• Voice search
• The Weather Channel widget for your Android home screen
• "Find me" capability to get pinpointed local weather
 Developed by The Weather Channel / Price: FREE / Android requirement: 2.1 or higher / Size: 4.1 M / Updated: December 4, 2012 / App. Rating: 4.1 (over 5)
::
 :
LocalEats
Looking for a place to eat? Skip all the generic fast food joints and eat where the locals do. Travelers will find the LocalEats app. handy for discovering nearby exotic food joints that are recommended by local food critics.
What is the best part about it? The app. can be used to find amazing gastronomic spots in over a hundred cities all over the world! From Athens to  Sydney… the list goes on! To view the list visit www.localeats.com/localeats-mobile/
Features:
- Available restaurant menus for over 70% of restaurants
- Search for deals on restaurants
- Ability to make dining reservations
- Schedule a taxi to get you there or take you home
- Save favorite restaurants and cities
- Get Driving directions
- Detailed descriptions
- Ability to share your favorite restaurants with friends
- Quickly view local area map
- No national chain restaurants
 Developed by Magellan Press Inc. / Price: $0.99 / Android requirement: compatible with iPhone, iPod touch, and iPad. Requires iOS 4.3 or later. This app is optimized for iPhone 5 / Size: 18.3 MB / Updated: October 27, 2012 / App. Rating: 4+ (over 5)
:Â 
FLIGHT +
Turn your smartphone screen into one big flight board! Travelers who want to get the latest airline updates and notifications will enjoy Flight+. Flight+ is an application that can help you track the all the available flights worldwide by listing all terminal gate changes, delays, arrivals, departures, seating charts, flight board, and even weather forecasts. This is good for those who do not want to be kept waiting at the airport by friends or family from overseas. With just a tap of a finger, you can find out if they are flight has been delayed or cancelled.
Flight+ detailed features list:
FLIGHTS
- Track any flight in the world
- Simple, intuitive flight search
- Detailed, real-time Departure and Arrival information of any flight(s)
- Terminal and Gate information updated in real-time as well
- Detailed Aircraft information
- Detailed Seat Maps
- Automatically synchronizes with your TripIt account
ALERTS
- Scheduled / Actual Departure Time changes
- Scheduled / Actual Arrival Time changes
- Gate and Terminal changes
- Flight Status changes
- You can also schedule Departure and Arrival reminders (don't forget to pick up your friend!)
AIRPORTS
- Find any airport worldwide
- Flight Board of all departures per airport
- Flight Board of all arrivals per airport
- Easy airport delay information
- Map of all Flights to and from an airport
- Terminal Maps for major airports
- Extended Weather Forecast per Airport (up to ten days!)
AIRLINES
- Find any airline worldwide
- Detailed airline info
- Flight Board of all flights per airline
- Map of all flights per airline
MAPS
- Zoom-able Maps with live flight track information and weather service
- World Clock integration
- Offline viewing features enabled for use in airplanes
SHARING
- You can save and share your flight information via e-mail, text message, Facebook, and Twitter
- Sync with your Calendar
- Save personal notes, label your flights, and store flight information of any flight
Developed by International Airport Flight Track Technologies
 / Price: $2.99 / Android requirement: compatible with iPhone, iPod touch, and iPad. Requires iOS 5.0 or higher. This app is optimized for iPhone 5 / Size: 43.5 MB / Updated: October 22, 2012 / App. Rating: 4+ (over 5)
:
:
FREE WI-FI FINDER
Being able to connect to our loved ones any time, anywhere is one of our top priorities. With the help of modern technology, connecting to them has been more convenient. Make unlimited video calls, compose emails and chat 24/7 with them using the Free Wi-fi Finder application. No need to waste time searching for locations with free wi-fi as the app. will immediately direct you to the nearest hot spot for your electronic gadget – no matter where in the world you are!
Features:

Share a Wi-Fi hotspot via email or via your Twitter or Facebook accounts

View Wi-Fi hotspot search results as a list or on a map without leaving the app

Viewing recent searches is just a tap away

Submit a free-access public hot spot directly from the app

Get Wi-Fi hotspot details and call the location, get directions to it or add it to your favorites

Filter Wi-FI hotspot search results by free vs. paid, provider or location type

Download the entire Wi-Fi hotspot directory for offline use. Quick and easy weekly updates mean you always have the latest data
Developed by JiWire Inc. / Price: FREE / Android requirement: iPhone OS 3.2 or higher / Size:  1.2 MB / Updated: January 24, 2012 / App. Rating: 4.3 (over 5)
 :