Top 6 Christmas Markets in Europe
Christmas is upon us. Don't know yet where to soak up in the real Christmas festivities?
 It is only a matter of weeks before the big day! As Christmas quickly approaches, hundreds of Christmas markets across Europe have already commenced. Christmas markets offer laid-back shopping experiences, coupled with a fairytale ambience that will surely get anyone in a festive mood.
 Imagine walking under the moonlight while street musicians and carolers serenade you? Imagine taking a bite from that freshly baked pastry you just bought a few minutes ago? Picture sitting by the town square and watching all the Christmas decorations light up as the cool breeze softly blows. Sounds quite romantic, doesn't it? Such is the feeling you get when you are in these Christmas markets.
 Christmas markets charm both locals and tourists alike because of its warm, festive and continental atmosphere. Besides finding great purchases and munching on gastronomic delights, Christmas markets offer a variety of amusement rides and activities for everyone to enjoy. Here are five of Europe's best Christmas markets that are worth visiting this season
Copenhagen, Christmas Market/Tivoli Christmas Market, Denmark
Now until 30 December 2012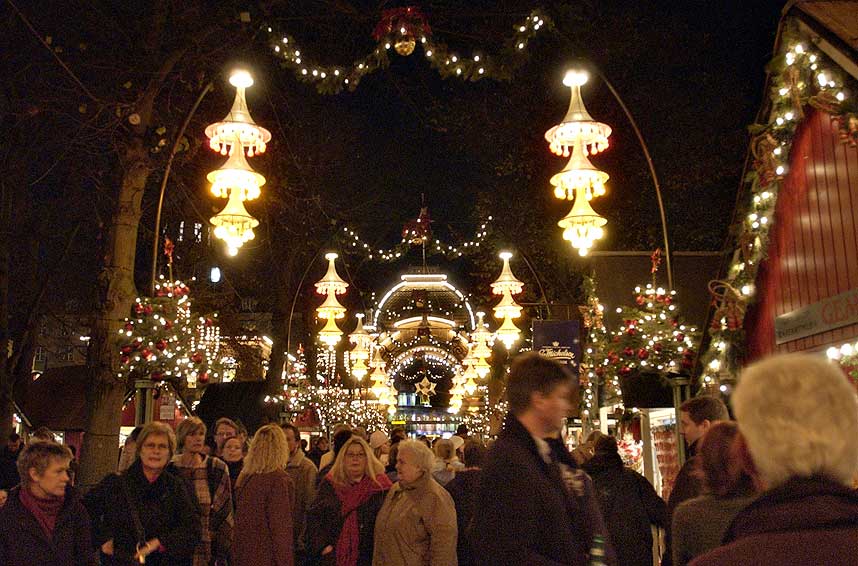 Copenhagen's annual Christmas market is held at Europe's oldest amusement park, the Tivoli gardens. Often described as if it were pulled out from a fairytale, the market boasts of hundreds of Christmas trees and thousands of Europe's oldest lights illuminating the park. Over 60 Colorful stalls sell local goods from porcelain dolls to wooden reindeers. Other stalls sell warm snacks such as apple dumplings, or what the Danes call æbleskiver, and the crowd's favourite, Glög. Glögg is a spicy drink made of Danish mulled wine and spices.
For children and those young at heart, other attractions include a skating rink, pony rides, and a 'leprechaun tent' where actors perform as little leprechauns.
Manchester Christmas Market, United Kingdom
Now until 23 December 2012
This award-winning market includes over 200 stalls featuring local delicacies and products from all over Europe. Celebrating its 14th year this 2012, the market will occupy eight different spaces around the city. The array of food and gift choices will be more extensive than before. European and local producers will be offering everything from jewellery, handcrafted leather bags, and bonsai trees to Dutch cheeses, Hungarian goulash, German beers and French wines. As part of their environmentally friendly campaign, a scheme will be applied where all mugs and glasses shall be deposited.
Cologne Christmas Markets, Germany
Starting from 26 November to 23 December 2012

With six Christmas markets, namely the Alter Market, Angel's Market, Cathedral Market, Harbour market, Maritime Christmas Market, and Market of Fairy Tales, there is no wonder Cologne receives about 3 million visitors every December. Each of these markets has their own theme and programme, which attracts different kinds of audiences.

For example, the Christmas Market at Cologne Cathedral primarily offers diverse arts and crafts items and unusual gift ideas. In the middle of the historic Cologne Old Town, visitors will find the Christmas market "Home for the gnomes". Old wives' tales say elves, which were exceptional craftspeople, lived in this area. Thus, visitors will still find a particularly large number of stalls selling traditional handcrafts in this market.

The Fairytale Christmas market is situated at Rudolfplatz. Sixty huts or stalls at the Hahnentorburg are decorated according to the famous brother's Grimm tales.

The new maritime Christmas Market has about 80 stalls in white pagoda tents with roof peaks similar to ship sails. High-quality products and art craft, dishes and drinks from all over the world are more evident in this market. A pirate show is staged to attract more people.
Lille Christmas Market, France
Starting from 21November to 30December 2012
Lille is a quainter Christmas market compared to others in Europe. Though the area is smaller, travelers have sworn that Lille does not fall short from being one of the most enjoyable markets around. At the main square, its biggest attractions – the Ferris wheel and Christmas tree – tower over the public. As the Ferris wheel turns, the 18-meter high Christmas tree stands and illuminates the market at night. With at least 3,900 shops in the city, the market offers something suitable for every taste and every budget as well.
Tourists often enjoy the fresh crepes and doughnuts sold in the streets.
Brussels Winter Wonders, Belgium
Starting from 30 November 2012 to 06 January 2013
The city of Brussels will again host this year's Winter Wonders, a project bringing all cultural, traditional and fun Christmas activities together. Such activities include a new permanent light display at the Grand Place, which is reported to be reminiscent of a musical and illuminated fairyland. The Winter Wonders also hosts Belgium's largest Christmas market, made up of 240 stalls, where hundreds of Belgian artisans and exhibitors sell their specialities, original gifts and handmade items. Gastronomic specialities including pots of moules (mussels), Belgian frites (fries), Belgian waffles, seasonal croustillons (sugar doughnuts), Belgian chocolates, and beer will also be present at the market. Moving around the event's main areas will also serve as an attraction as locals and tourists will be walking along an illuminated route, featuring a sound system and enlivened by street artists.

Vienna Christmas Market
Now until 24 December 2012
Probably one of the oldest and most well known Christmas attractions in Europe is Vienna's Christkindlmarkt or Christmas Market. Its history dates back to the middle Ages when King Albrecht I granted the Viennese the privilege of holding their own December market to celebrate the season. That was in 1298. Centuries have passed and today, the same Christmas market continually attracts millions of visitors. Rows of wooden huts sell different kinds of local goods, handcrafted decorations, and delicious meals, among others. Other attractions include a romantic park surrounding the market. Visitors can stroll and look at the wonderfully decorated and well-lit trees. Visitors and their children can also visit the Vokshalle within the Town Hall. This is a daily workshop where one can bake traditional Viennese Christmas cookies.
To revitalize weary shoppers, about 200 booths also serve visitors some 10, 000 liters of hot punch everyday.
(Sources: christmasmarkets / Europe's top 10 Christmas markets / Christmas Markets the Spot)
:
: